The best Easter egg hunts for adults coming to the city this weekend
FYI: Easter egg hunts aren't just for kids! In fact, we found several adult-approved scavenger hunts happening in NYC this weekend, and the winnings range from a free stay at one of the most luxurious hotels in NYC, free wine and, well, more gratis booze! Sounds like our kind of prize.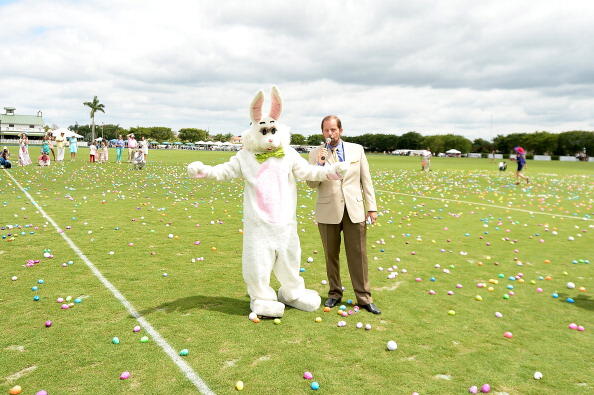 Assemble your best team for an egg hunt that goes beyond looking in some shrubs. The city is your backyard and to fill your basket, you're going to have to use your brains and physical prowess to solve the clues and complete the hunt first. The winning team receives a New York City gift package. If your friends can't handle the challenge, individual participants can be assigned a team. There is an adults-only version as well as a family-friendly option.
Here's an egg hunt surrounding two of our favorite things in life: Chocolate and vino. Winos should book it to hip Brooklyn spot Rooftop Reds on Sunday to enjoy a chocolate and wine tasting with Mast Brother's, followed by an Easter egg hunt in the vineyard. The grand prize is the greatest gift of all—more wine!
You'll have to work extra hard to find these pastel eggs. In fact, this egg hunt at Brooklyn Boulders requires you to exert your entire body by climbing its rock climbing wall to scour for hundreds of eggs filled with prizes. A ticket ($22) includes coffee and a continental breakfast.
Spend Easter Sunday at Conrad New York by munching on a delicious feast at Atrio followed by decorating Underwest donuts and participating in an Easter egg hunt. The person who finds the golden egg wins a free stay at the luxurious hotel, which might come in handy after sipping one-too-many mimosas during brunch.
Now that the weather is somewhat agreeable, you might be interested to go camping. Okay, we mean glamping! Tentrr, which provides all the tools and gear necessary for you to glamp like a boss in the wilderness, is hosting an Easter egg hunt in Prospect Park and Central Park on Sunday morning. Follow the clues provided on the brand's Instagram account (@TentrrCo) to play. Winners cop an orange egg with a $100 Tentrr gift card inside. (One egg is located at each park.)

ON AIR: Weekdays 3PM-7PM

For the last 20 years, Sean 'Hollywood' Hamilton has been one of the most recognizable names in radio from coast-to-coast. He has established a legion of fans and admirers within the music industry, when he hosted shows at Z-100 in New York, KIIS FM in Los Angeles and then back again at KTU in New York, and all becoming #1 in the Arbitron ratings in a short amount of time.Sean Hamilton always dreamed about becoming a Disc Jockey, and his dream started when he was six-teen years old and constructed an illegal pirate radio station in the basement of his parent's home. Sean admits 'I knew I wanted to pursue a career in this business when I caught the bug back then illegally, speaking to 6 people on a clear day. It was such a great feeling that I decided I wanted to speak to a few more.' When his pirate radio station was pulled off the air by the Federal Communications Commission he Immediately landed his first job in commercial radio in his hometown of Reno, Nevada. In 1990 New Line Cinema released a motion picture called 'Pump up the Volume' starring Christian Slater, which was loosely based on Sean's life.